7 Things You May Not Know About CoolSculpting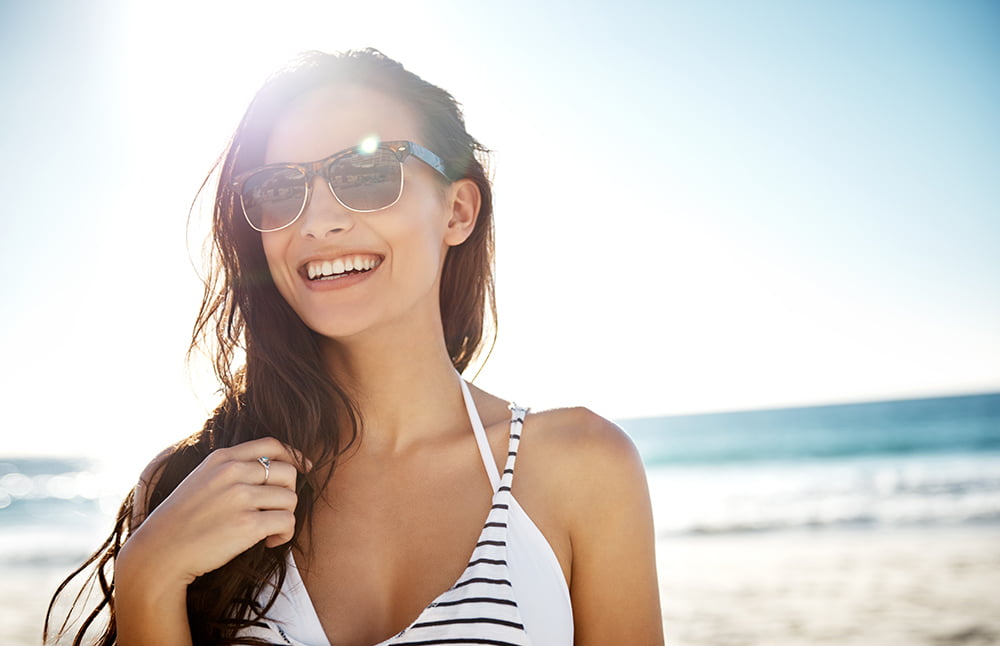 CoolSculpting is the most popular non-surgical fat reduction treatment on the planet—over 7 million procedures have been performed worldwide. Chances are you have heard of CoolSculpting from radio ads, billboards, or even friends who've had the procedure.
CoolSculpting works by freezing your fat, helping to spot-reduce stubborn areas on the belly, thighs, upper arms, or back with little-to-no downtime. The CoolSculpting® procedure is FDA-cleared for the treatment of visible fat bulges in the submental (under the chin) and submandibular (under the jawline) areas, thigh, abdomen and flank, along with bra fat, back fat, underneath the buttocks (also known as banana roll) and upper arm. Our Fort Worth CoolSculpting patients love that they can come in for treatment, relax for about an hour, and then return to their normal day right away.
As much as we love CoolSculpting at Kalos Medical Spa, board certified plastic surgeon Dr. Emily Kirby wants her patients to be fully informed about any procedure before signing on. That includes discussing what you can expect realistically, as well as the low risk of possible side effects.
If you are considering CoolSculpting near Fort Worth, you'll naturally want to look at all of the benefits. We also encourage you to read the following realities of treatment that not all providers will share with you.
1. You will likely need more than one CoolSculpting treatment to achieve your fat loss goals
CoolSculpting typically results in measurable fat reduction after one treatment, but "measurable" does not always equate to total satisfaction. On average, our patients seek 2 to 4 CoolSculpting treatments to achieve their desired level of fat reduction in a given area. Because of this, we offer CoolSculpting packages, which reduce the price of each session vs. purchasing single treatments.
Those who do achieve their desired results in one treatment often return as well—to have another body area treated, having experienced the difference that CoolSculpting can make.
2. CoolSculpting will not make you immune to weight gain
It's just as important to adhere to a healthy diet and exercise program after CoolSculpting as you did before. Although CoolSculpting physically destroys fat cells in the targeted area for good, it is not a hall pass to eat and drink with abandon. If you eat poorly and exercise too little, you can (and probably will) gain weight just as any of us would. This includes gaining weight in the treatment area, since the remaining fat cells can grow larger.
We give our Fort Worth liposuction patients the very same advice—this isn't a circumstance unique to CoolSculpting. That said, many of our CoolSculpting patients find it a little easier to stick to a healthy lifestyle, as their results motivate them to keep up the healthy efforts!
Just because CoolSculpting is non-surgical doesn't mean that anyone can perform it correctly. Your choice of provider most certainly affects your results.
3. CoolSculpting isn't totally painless (just mostly)
CoolSculpting can be a little uncomfortable for some patients. During treatment, you may feel stinging, pressure, and intense cold for a few minutes, and then numbness, which can last several hours.
You may also have a little discomfort after treatment: redness, mild bruising, and a tingling or cramping sensation are common. In the vast majority of cases, these effects disappear by two weeks post-treatment, if not sooner.
4. CoolSculpting side effects are minimal and rare, but they do exist
A major benefit of CoolSculpting is that patients can avoid the inconvenience and potential side effects of surgery and anesthesia. However, CoolSculpting has a few rare side effects to be aware of before undergoing treatment, including late onset pain (occurring several weeks after a procedure) and paradoxical adipose hyperplasia (PAH), a complication in which the fat cells expand and harden in response to treatment. PAH is very rare, but treatable with liposuction.
5. The device isn't everything: your choice of provider will affect your results
Just because CoolSculpting is a patented device doesn't mean the device itself does everything. Your provider's recommendations about where to have the treatment, their experience in administering the treatment, and their advice on how many treatments to have will affect your final results. Additionally, not all practices have the full run of the newest specialized CoolSculpting applicators; a medical practice with a complete set will be able to offer you more options to complete your look.
For the best chance of getting the results you are hoping for, choose a CoolSculpting Certified Practice. Providers at these practices have undergone the highest level of official CoolSculpting training, earning licensure that shows they can safely and effectively perform the procedure. But, because CoolSculpting can't solve all problems, we suggest raising the bar even further and choosing a practice led by a board certified plastic surgeon. This will help ensure you get honest and complete advice about multiple body contouring options (vs. hearing only about CoolSculpting, even if it isn't the best treatment for your concerns).
6. Not everyone is a candidate
Patients with certain conditions, particularly blood disorders that are affected by cold temperature, should not get CoolSculpting. That's why it's essential to share your medical history with your provider before any procedure, and why you should always choose a medically trained CoolSculpting provider who is qualified to determine whether or not CoolSculpting is safe for you.
Patients with certain blood disorders should not have CoolSculpting.
7. It is not a miracle treatment
There is no such thing as a universally effective procedure. CoolSculpting will not help with loose or sagging skin, nor will it dramatically change your shape. If these are your goals, tummy tuck and/or liposuction surgery are more likely to be appropriate options.
CoolSculpting is generally a good option for anyone wishing to reduce a modest fat bulge without surgery. The happiest CoolSculpting patients have clear goals and realistic expectations from the procedure. These patients:
Have good skin elasticity
Are happy with their current weight (within 5-10 pounds)
Are bothered by isolated fat bulges
Do not need detailed sculpting
Are not looking for dramatic change
If this sounds like you, then you are very likely to be thrilled with CoolSculpting as a treatment option.
Have questions about CoolSculpting? We're here to help.
We hope this post has helped you better understand the benefits and considerations of CoolSculpting. If you would like to learn more, we welcome you to call or text us at 817-292-4200. Our friendly Fort Worth med spa staff can help answer your questions, or they will be happy to book a consultation for you to discuss your questions and aesthetic goals with Dr. Kirby or one of our certified physician assistants.