CO₂ Laser Skin Resurfacing

This laser is our "fountain of youth" for advanced skin imperfections
If you are ready to reverse the combined effects of sun damage and aging, our Fort Worth med spa offers a skin treatment that addresses both at once: CO₂ laser skin resurfacing. This laser delivers short, precise pulses of energy for safe and effective treatment of a host of skin imperfections, including wrinkles, discoloration, mild skin laxity, and scars.
How does laser skin resurfacing work?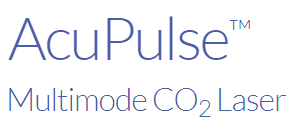 CO₂ laser skin resurfacing is an ablative skin treatment, which means that the laser works on two levels:
Prompts the body to refresh the skin surface with youthful, healthy new cells by removing the top layer of skin
Stimulates collagen production below the surface of your skin, promoting a smooth, tight, younger skin appearance
We can use the AcuPulse laser to treat specific areas, such as scars, or provide you with full face and neck rejuvenation.
Our Lumenis AcuPulse CO₂ laser is ablative and fractional, which means the beams of light are spaced apart so that a smaller portion of your skin's surface is affected, requiring less downtime. Think of it like a checkerboard, and only the red squares are treated. Fully ablative lasers that are not fractional deliver treatment to every square on the checkerboard, resulting in more dramatic results, but significantly longer downtime (6 months to 1 year of pink skin!). You can expect about 7-10 days of pink skin discoloration with our fractional CO₂ laser treatments.
What are the benefits of laser skin resurfacing?
Laser skin resurfacing offers rejuvenating, toning effects in a deeper and more lasting way than most other skin treatments. Depending on your needs, we calibrate the CO₂ laser to custom settings for your skin in order to achieve the following benefits:
Firm and gently tighten the skin
Even areas of discoloration
Diminish acne scars and even skin texture
Minimize the appearance of sun damage
Smooth fine lines, wrinkles, and folds
This ablative treatment is best for those with lighter skin tones and significant wrinkles or sun damage. If you have mild discoloration and some fine lines, or if you have an olive or darker complexion, we may recommend the non-ablative, fractional laser ResurFX or medical-grade facials to safely rejuvenate your skin.
What can I expect from my CO₂ laser therapy treatment?
CO₂ laser treatment lasts anywhere from 30 minutes to 2 hours, depending on your desired treatment areas. If your laser treatment focuses on a small area, we may apply a topical numbing cream, with optional sedation to help you relax. You will likely experience a brief sensation of a rubber band snapping as the laser passes over your skin.
For those patients who choose to undergo a comprehensive fully ablative, non-fractional laser treatment, general anesthesia may be recommended.
After treatment, we apply ointment. If you choose sedation or general anesthesia, you will need to have someone drive you home and stay with you for 24 hours. You will have detailed instructions to follow for taking care of your skin at home following treatment.
Enhance surgical results with CO₂ laser treatment
You may also choose to undergo CO₂ laser treatment at the same time as your surgical procedure at Kirby Plastic Surgery. A combination procedure offers many benefits: you will already be under anesthesia for the laser treatment, and you will have one recovery for both procedures.
Our patients commonly choose to combine CO₂ laser treatment with surgical skin tightening procedures such as upper eyelid lift, brow lift, and even procedures for the body or breast.
How long does it take to heal from CO₂ laser resurfacing?
CO₂ laser resurfacing requires 7-10 days of social downtime (and no makeup) to allow the skin to heal. After this time, you will first notice improved surface texture and color, as the top layer of your skin is replaced with new healthy cells.
Deeper results, like firmer skin and smoother wrinkles, will appear over time, as your skin continues to rebuild collagen in its deeper layers. This will take several weeks after fractional laser treatment and several months after non-fractional laser treatment.
Despite the wait, the results are well worth it, as most patients reach their desired goals with just one treatment.
Not ready for the downtime? For gentler skin resurfacing, try ResurFX
For those who are not ready for the downtime required after CO₂ laser resurfacing, we also offer a non-ablative, fractional laser resurfacing with ResurFX. This laser passes through your superficial layers of skin to stimulate collagen production below the surface, requiring a few consecutive treatments for best results and a little less downtime.
Learn more about laser skin resurfacing in Fort Worth
Ready for the smooth, natural-looking skin of your dreams? Call or text our office at (817) 292-4200 or contact us online to discuss your Fort Worth laser treatment options at Kalos Medical Spa.
Area Served: