Fort Worth CoolSculpting
Reduce stubborn fat pockets without surgery

Do you regularly work out, eat healthy foods, and try to take great care of yourself, but still battle an area or two of stubborn fat? Diet- and exercise-resistant fatty bulges are common, and they can be particularly frustrating when you're doing everything right.
If that sounds familiar, it may be time to consider CoolSculpting® at our Fort Worth med spa. This wildly popular treatment is the #1 non-invasive fat reduction procedure in the world—and it requires no surgery, no needles, and little to no downtime.
What is CoolSculpting?
CoolSculpting is non-surgical fat reduction with little to no downtime
CoolSculpting uses fat-freezing technology to help you reduce stubborn fat pockets without surgery and with little to no downtime. CoolSculpting is FDA cleared to target many common areas of unwanted fat:
Abdomen

Hips

Love-handles

Inner and outer thighs

Bra rolls

Back fat

Upper arm

Under the buttocks (banana rolls)

Double Chin
CoolSculpting is backed by research: the procedure is clinically proven to help reduce stubborn bulges with long-lasting results. A CoolSculpting procedure at Kalos Medical Spa in Fort Worth takes approximately 35 minutes per area, and you can go right back to your day immediately after treatment. Your treated areas will shrink gradually after CoolSculpting, with full results in about 3 months*.
Call or TEXT 817-292-4200 to learn more or schedule your CoolSculpting consultation
How does CoolSculpting reduce unwanted fat?
CoolSculpting uses a proprietary technology called cryolipolysis, which selectively targets and "freezes" away unwanted fat cells beneath the skin. Because fat cells break down at a higher temperature than other tissues, CoolSculpting can safely and effectively reduce stubborn fat without harming surrounding tissues. Over several weeks following treatment, your body naturally metabolizes the affected fat cells, helping the treated area become slimmer gradually.
Once these fat cells leave the body, they are gone, and results can last for many years as long as you maintain a stable weight and a healthy lifestyle.
Did you know…? Cryolipolysis was inspired by Harvard University research suggesting that children who frequently ate popsicles started developing dimples because the icy treat was "freezing" fat in the cheeks.
The efficacy of CoolSculpting has been repeatedly proven by clinical studies. Many patients experience around 20% fat reduction in the treated areas, with results appearing over the span of around 90 days. Results are long-lasting with a continued healthy diet and exercise routine.
Why Choose Kalos Medical Spa for Your CoolSculpting Treatment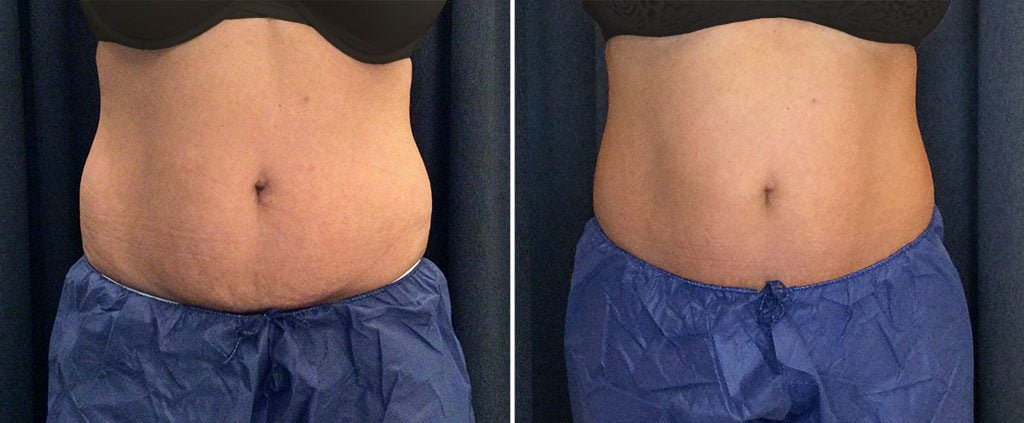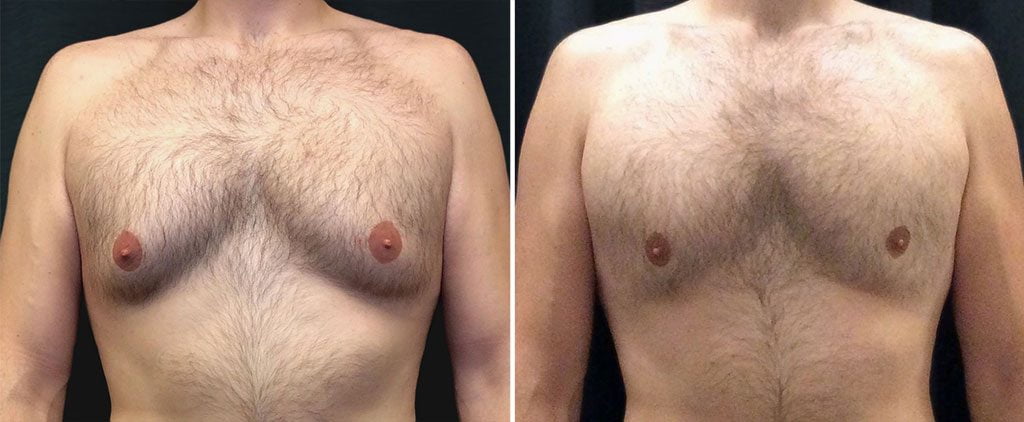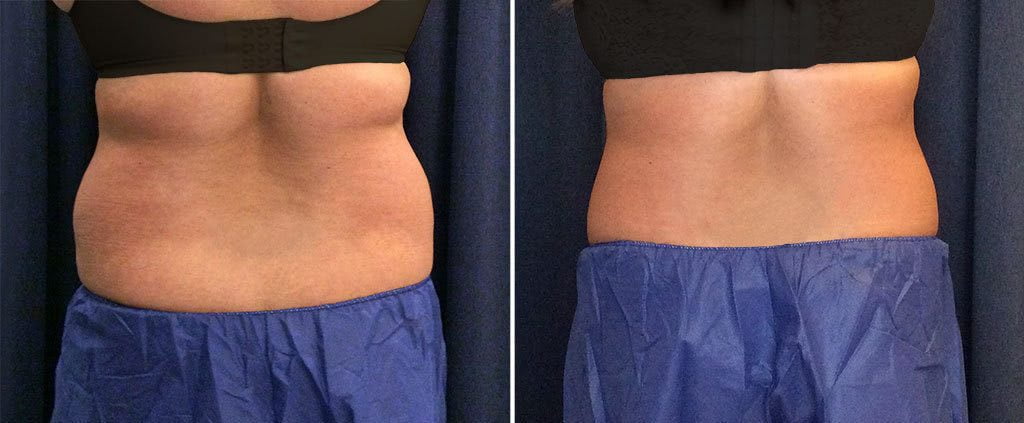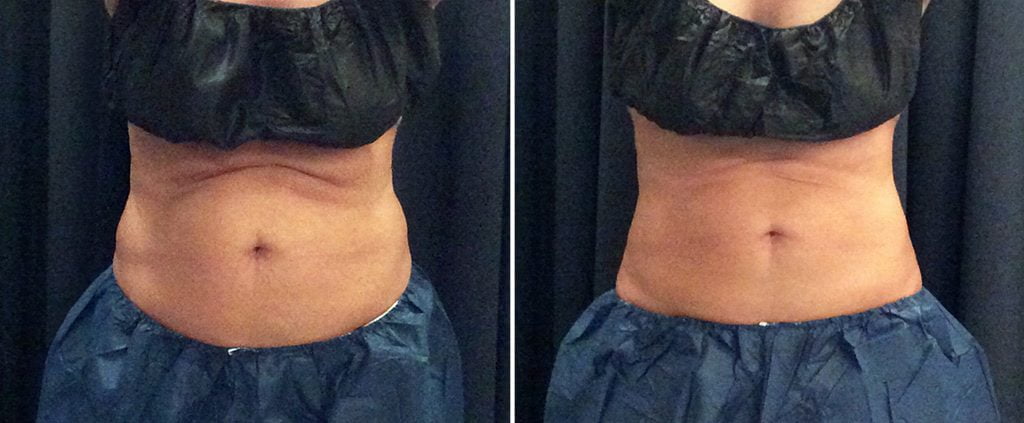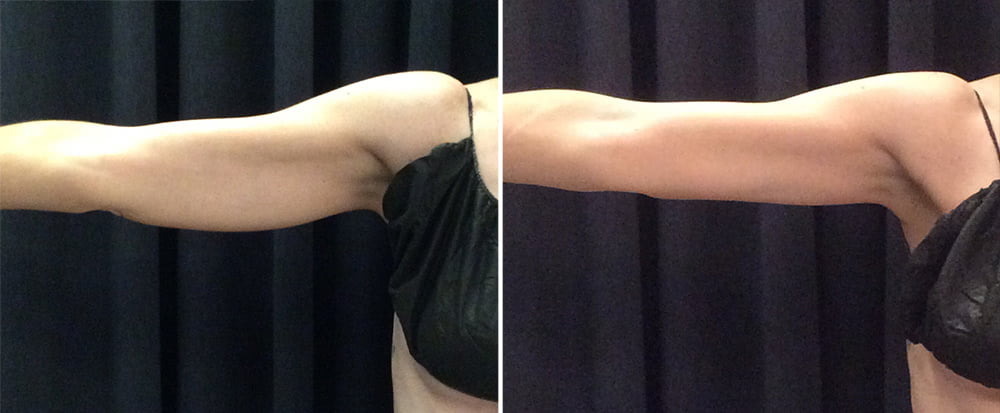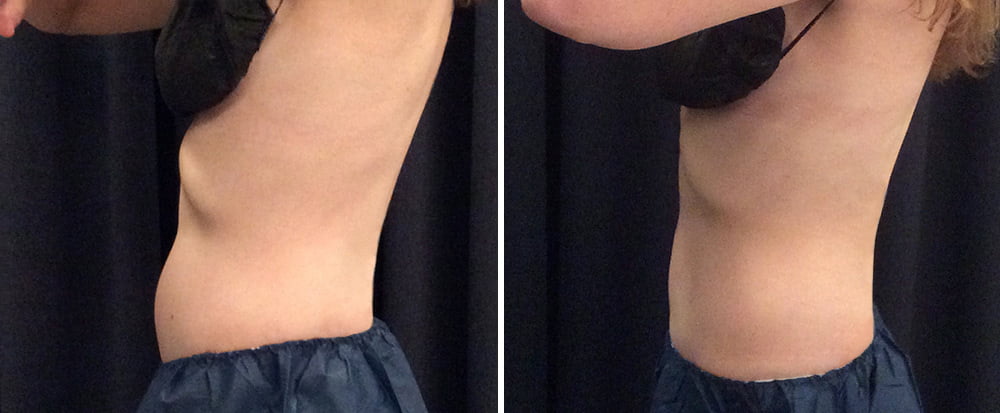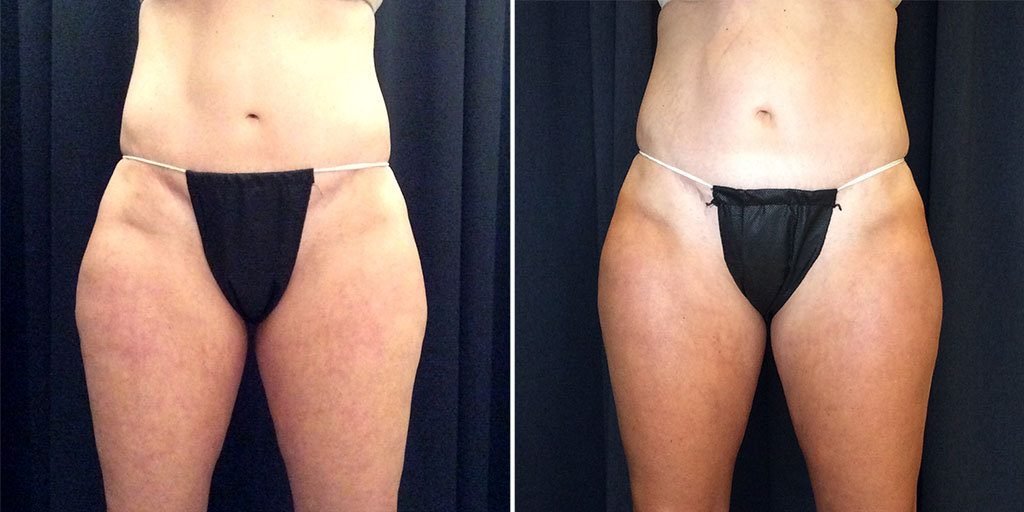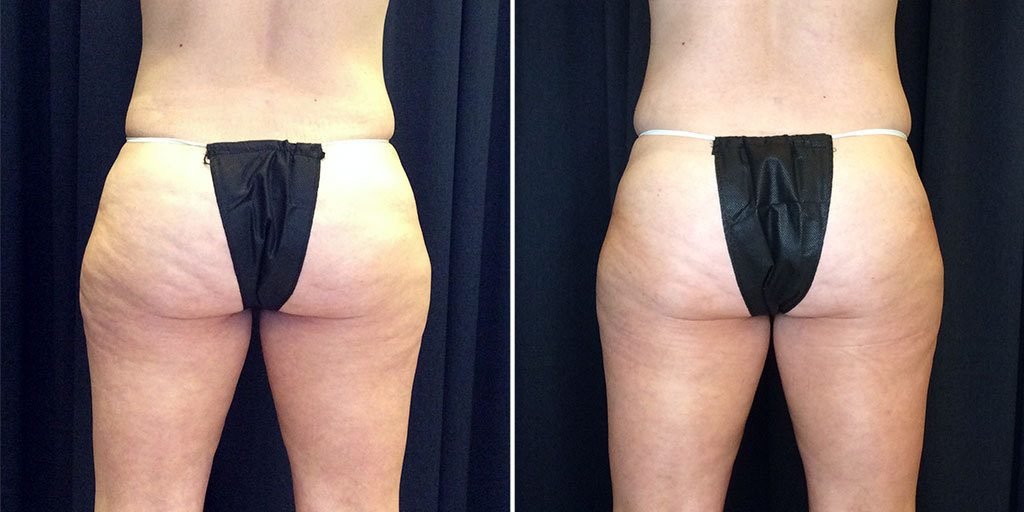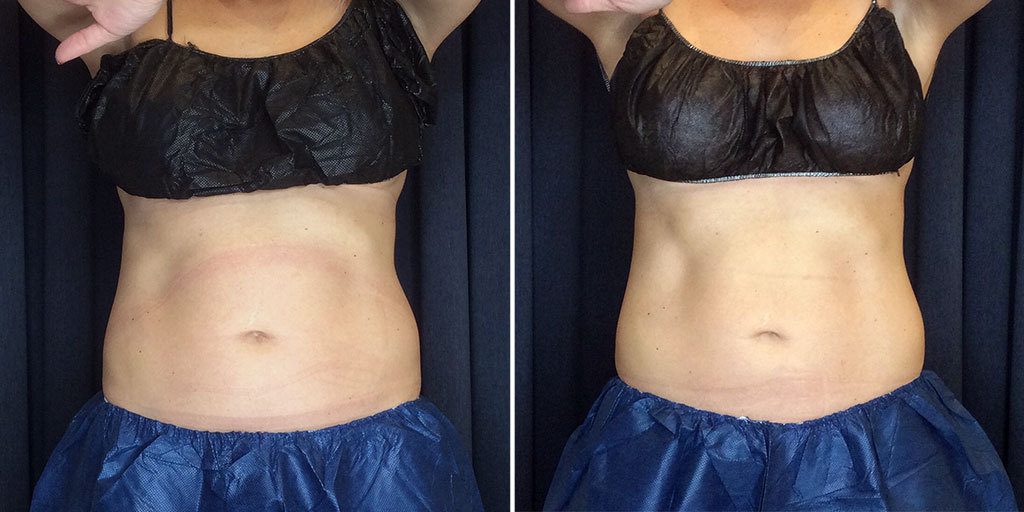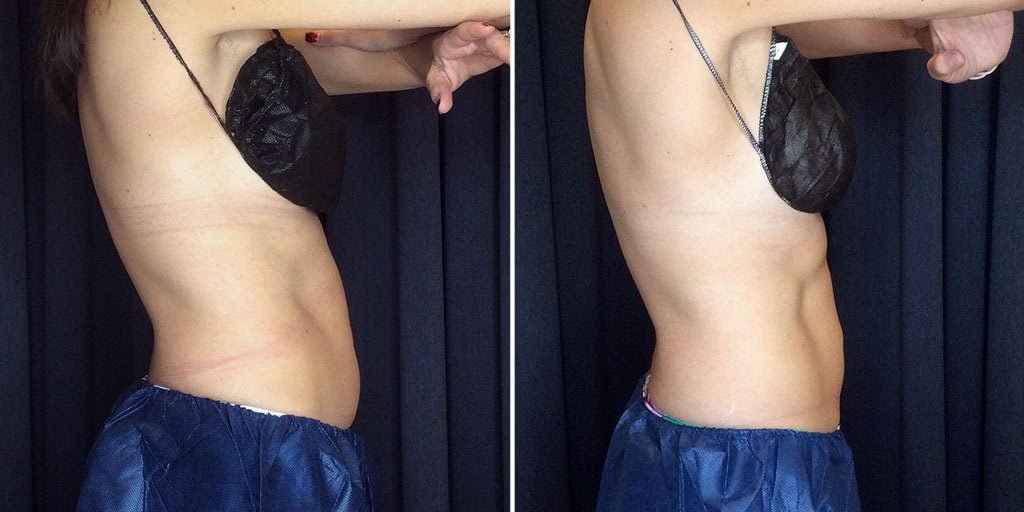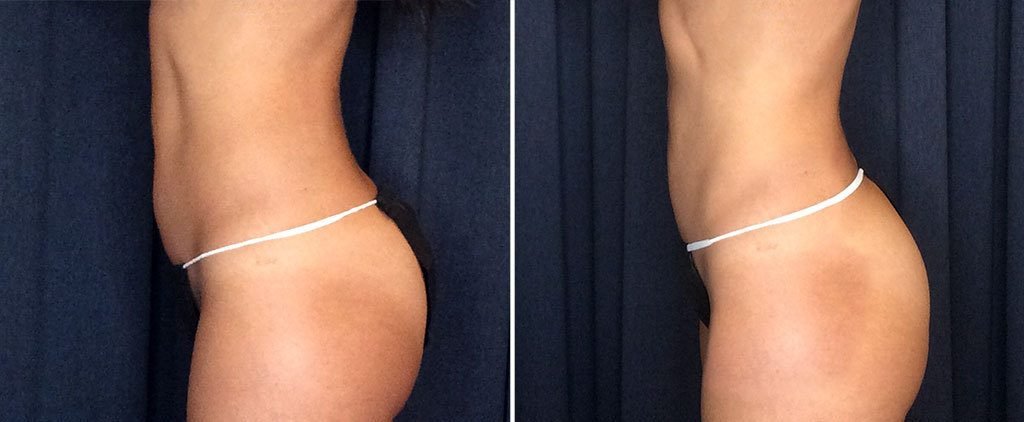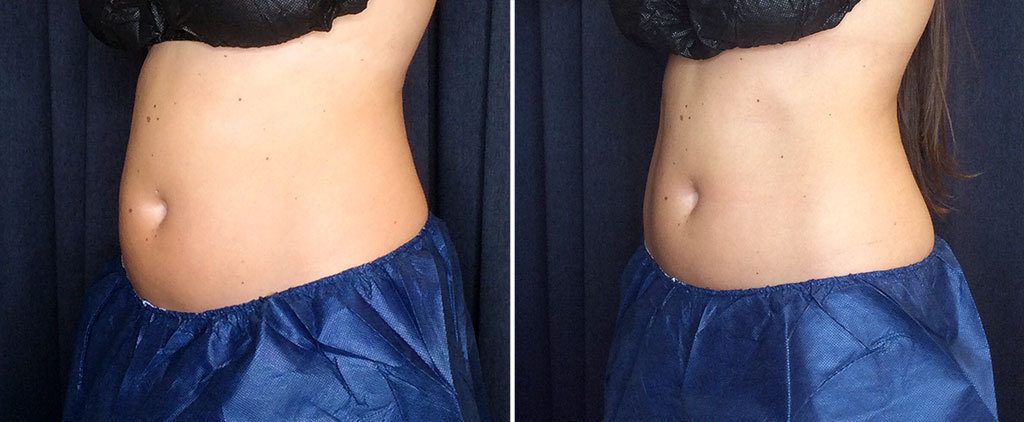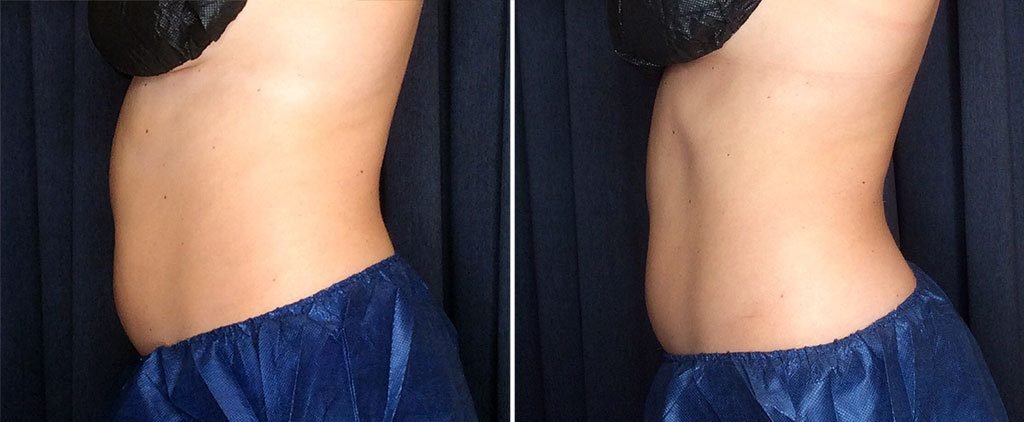 Before & after photos of Kalos CoolSculpting patients
"Absolutely amazing office! I cannot say enough great things about them! The two procedures I had done I am sooo happy with the results…staff actually listens to you and makes sure you are completely taken care of. Go there you will not regret it!"
—T.D., Actual Patient
CoolSculpting certified expertise you can trust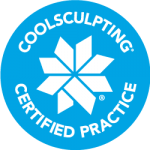 CoolSculpting may be non-surgical, but provider experience and technique still matter—and can make the difference between achieving your desired results and not. Many clinics have a CoolSculpting machine, but that's no guarantee the staff have adequate training and experience with treatment.
As a CoolSculpting certified practice, our Physician Assistants have over 15 years of collective hands-on experience and also have completed top-level training and passed tests proving their knowledge and ability to perform your CoolSculpting procedure safely and effectively.
Safe & effective fat reduction results
CoolSculpting's fat reduction technology is evolving, and we are pleased to offer all of the newest generation of contoured CoolAdvantage applicators. These new applicators are more comfortable and treat a larger area in a shorter amount of time compared to the original applicator. If you are concerned about discomfort, ask for our new "Comfort Zone" treatment for full relaxation.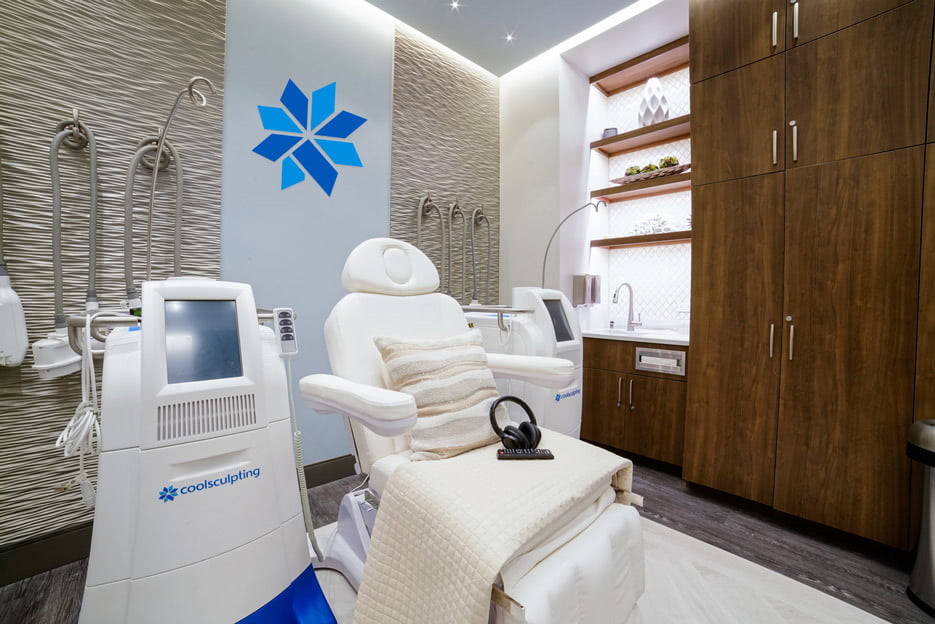 DualSculpting™ for faster fat reduction
In many cases, patients wish to get fat reduction treatment on both sides of the body. For paired or multiple areas, two machines, "DualSculpting," can cut your appointment time in half, doubling the speed of your procedure. One CoolSculpting treatment takes as little as 35 minutes per cycle with the newest applicators. We value your busy schedule and offer DualSculpting so you can have paired areas treated at the same time!
Additional body contouring options
Not sure if CoolSculpting or liposuction is right for you? That's an advantage of choosing our highly trained team at Kalos Medical Spa for CoolSculpting—board certified plastic surgeon Dr. Emily Kirby works hand-in-hand with our CoolSculpting Physician Assistants to help patients understand all of their body contouring procedure options, both surgical and non-surgical, so you can choose what best suits you.
Where can CoolSculpting be performed?
Our Fort Worth medical spa offers the latest CoolSculpting technology and the full suite of applicators, so we can help you reduce trouble areas from head to toe. Currently, CoolSculpting is FDA cleared to spot-treat persistent fat cells in the following areas:
Abdomen

Belly pooch

Flanks (love handles, muffin top)

Inner & outer thighs

Under the buttocks (banana roll)

Bra rolls

Back fat

Upper arms

Double chin reduction with CoolMini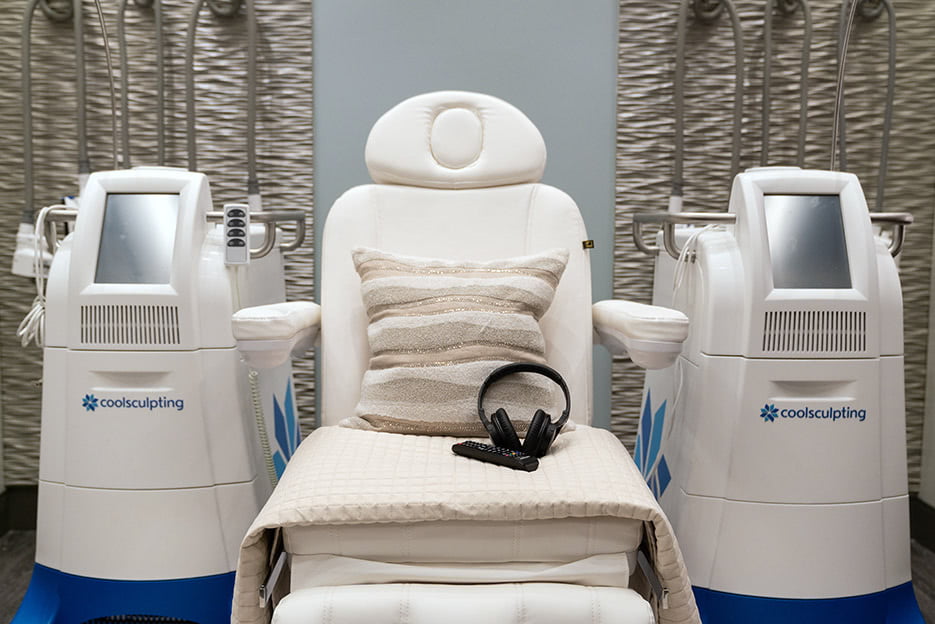 What to expect during your CoolSculpting treatment
On your day of treatment, you will be shown to a private room where you can settle in and get comfortable. We will mark your areas of concern so the CoolSculpting applicator can be positioned for optimal results. A cool gel pad will be placed on the treatment area under the CoolSculpting device.
When treatment begins, it's normal to feel a brief, intense cold and firm tugging as the applicator suctions to your skin and the cooling begins. The level of pressure you feel will depend on the type of applicator used and area treated. The cold sensation typically lasts just a few minutes, at which point the area goes numb; most of our patients report that any initial discomfort is bearable and short-lived. During your session, you can read a book or catch up on work. Treatment can take as little as 35 minutes.
Many patients notice results after just one session, but depending on your individual concerns and goals, you will likely need a few additional CoolSculpting treatments to get the complete results you want. Many patients desire one to three treatments per area.
How much does CoolSculpting® cost in Fort Worth?
CoolSculpting costs $650 per area on average, though your final fee will depend on a few factors.
CoolSculpting® non-surgical fat reduction can be a cost-effective option to reduce stubborn fat bulges* with little-to-no downtime. At Kalos Medical Spa at Kirby Plastic Surgery, CoolSculpting prices are determined by the following:
What areas of the body you would like to treat. Treating both sides of the body (e.g., inner/outer thighs or love handles) or multiple areas (e.g., abdomen and double chin) costs more than treating one area alone.
How many CoolSculpting sessions you need to achieve your desired level of fat reduction. While many patients notice results after their first treatment, most choose to undergo follow-up treatments every two or three months to achieve a greater degree of reduction. Package prices are available to lower your costs.
Whether or not you are pairing CoolSculpting with other treatments. Many of our Fort Worth CoolSculpting patients also choose to have skin tightening, injectables, or other medical spa treatments as part of their overall rejuvenation plan.
At Kalos Medical Spa, you can purchase CoolSculpting packages that include multiple CoolSculpting sessions at a special price. We also frequently run specials on CoolSculpting and other medical spa treatments to help you save.
CoolSculpting cost vs. liposuction cost
Each CoolSculpting treatment costs only a fraction of what you might pay for liposuction for the same area. Additionally, patients typically do not need to take time off work to recover after CoolSculpting, which is an indirect way of saving. While CoolSculpting may not achieve as dramatic a result as liposuction, it may be a more cost-effective treatment for patients wishing to achieve mild fat reduction and improvement in the shape of an area.*
Call or TEXT 817-292-4200 for CoolSculpting prices at Kalos Medical Spa
When will I see my CoolSculpting results?
Initial fat loss results may start to be visible after a few weeks, but final results typically come in 2 to 3 months as your body naturally metabolizes the treated fat cells. If you need 2 treatments to look spring break ready, plan on starting your treatments in the fall. If your goal is to be ready by summer, you'll need to start treatments in the winter. CoolSculpting is a journey, and we will work with you all year long.
We are a Top 500 Provider
Thanks to our patients, we are in the top 1% of Allergan providers nationwide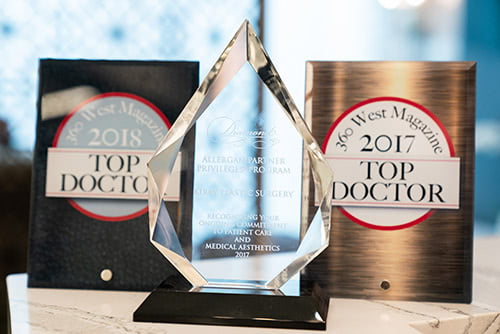 Dr. Kirby and her team have been named a Top 500 practice by Allergan, the makers of CoolSculpting as well as Botox® and Juvéderm® fillers. Dr. Kirby is one of only three plastic surgery practices with this distinction in the Dallas-Fort Worth metroplex.
The Top 500 distinction is awarded annually to the busiest practices serviced by Allergan in the United States. Earning this award distinguishes our practice and symbolizes our many years of experience and depth of knowledge in helping our patients enjoy beautiful outcomes using these products and treatments. It is a testament to our commitment to exceptional patient care through quality service and attention to detail.
We are honored to be recognized among the top 1% of over 35,000 providers nationwide and are grateful for the confidence our patients place in us.
If you'd like to learn more about this popular non-invasive fat reduction treatment, fill out our online contact form or give us a call or text us at (817) 292-4200 to schedule your consultation! Our highly-experienced providers would love to discuss your goals and personalize a treatment plan to tackle unwanted fat and give you stellar body contouring results you will love. We look forward to hearing from you soon!
Area Served:
*Individual results vary.