Fort Worth Botox® Cosmetic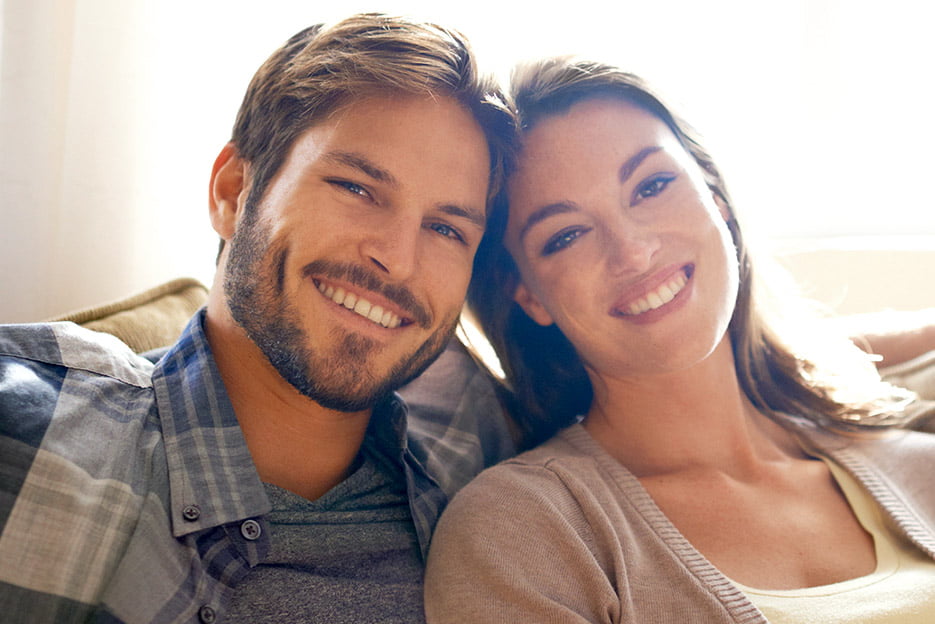 Look refreshed, refined & naturally you
Frown lines, crow's feet, lines etched across our forehead—these so-called "expression lines" are often the first signs of aging we notice, and they come with the frustrating side effect of making us look haggard, worried or, well, frustrated, even when we feel great!
Expertly performed Fort Worth Botox® injections can help soften these lines, quickly restoring a naturally refreshed appearance that reflects your true state of mind. With results that take just days to appear and can last up to 4 months, Botox is a popular, effective treatment for both men and women.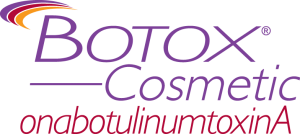 ---
---
Why choose Kalos for your Fort Worth Botox treatments?
Do you know great Botox results when you see them? Probably not, because expertly performed Botox injections result in a naturally refreshed appearance, plain and simple. And that's what our medically trained providers at Kalos are famous for. Our Fort Worth med spa patients trust us to deliver subtle, natural results. We will listen and develop a treatment plan just for you, based on your gender, muscle mass, ethnicity and skin thickness, as well as your individual goals. Our goal is to achieve the refined, refreshed look you want.
"I can't thank you enough for your care throughout my entire experience at your office. I am beyond pleased with my results and overwhelmed by your patience and kindness. You have my highest recommendation for any new patient."
—Marc H., 5-star Google Review
---
Call or TEXT 817-292-4200 to book your injectables appointment at Kalos
---
We are a Top 500 Provider
Thanks to our patients, we are in the top 1% of Allergan providers nationwide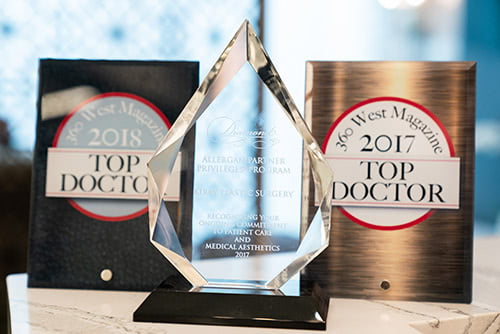 Dr. Kirby and her team have been named a Top 500 practice by Allergan, the makers of Botox, Juvéderm® fillers, and CoolSculpting®. Dr. Kirby is one of only three plastic surgery practices with this distinction in the Dallas-Fort Worth metroplex.
The Top 500 distinction is awarded annually to the busiest practices serviced by Allergan in the United States. Earning this award distinguishes our practice and symbolizes our many years of experience and depth of knowledge in helping our patients enjoy beautiful outcomes using these products and treatments. It is a testament to our commitment to exceptional patient care through quality service and attention to detail.
We are honored to be recognized among the top 1% of over 35,000 providers nationwide and are grateful for the confidence our patients place in us.
What is Botox® Cosmetic?
Botox® Cosmetic is a prescription medicine that is injected into muscles and used to temporarily improve the look of moderate to severe frown lines between the eyebrows (glabellar lines), crow's feet, and forehead lines. It works by blocking nerve impulses to the injected muscles. This reduces muscle activity that causes moderate to severe lines to form between the brows. Individual results may vary. Botox is administered as a simple, nonsurgical treatment, and take about 15 minutes for our licensed, medically trained providers to perform.
Is Botox Right for Me?
Skin care should start before signs of damage are evident. In Texas, we are exposed to the sun year round. Attention to your skin now can prevent years of aging later. A good routine of exfoliation, sunscreen and regular Botox can keep you looking young beyond your years. Even if wrinkles have set in, Botox can improve your appearance and prevent the development of more.
How can I avoid bruising from Botox?
When will I see results from a Botox treatment?
Within days, you may see a marked improvement in the moderate-to-severe frown lines between your brows. Lines that were treated continue to improve for up to 30 days. Individual results may vary.
How long does Botox last?
Visible results have been shown to last from 3-4 months. Your own results may vary. Be sure to talk to us about what you can expect and when to schedule your next appointment.
Will I still be able to make facial expressions?
Although the results are visible, Botox will not radically change your facial appearance or make you look as if you've "had work done" given treatment is performed by an experienced provider. The muscle activity that causes frown lines between the brows is temporarily reduced, so you can still frown or look surprised without the wrinkles and creases between your brows.
How much will my treatment cost?
The average Botox treatment is typically between $400-$500. All treatment plans are unique, but you can use this guide to approximate your costs:
First, add the total number units you might need. For example, to treat forehead lines, you will need 6-15 units.
Second, multiply the number of units by the cost per unit. For example, 10 units x $15 per unit = $150.
Your individual plan will be based on a number of factors including your goals and physical anatomy. Our Kalos team will work with you to determine the best course of treatment.
How much Botox will I need?
The following chart gives an approximate range of the amount of Botox needed to treat common concerns. You may require more or less Botox than what's listed here, but this is a good starting point to get a ballpark idea of the cost of Botox.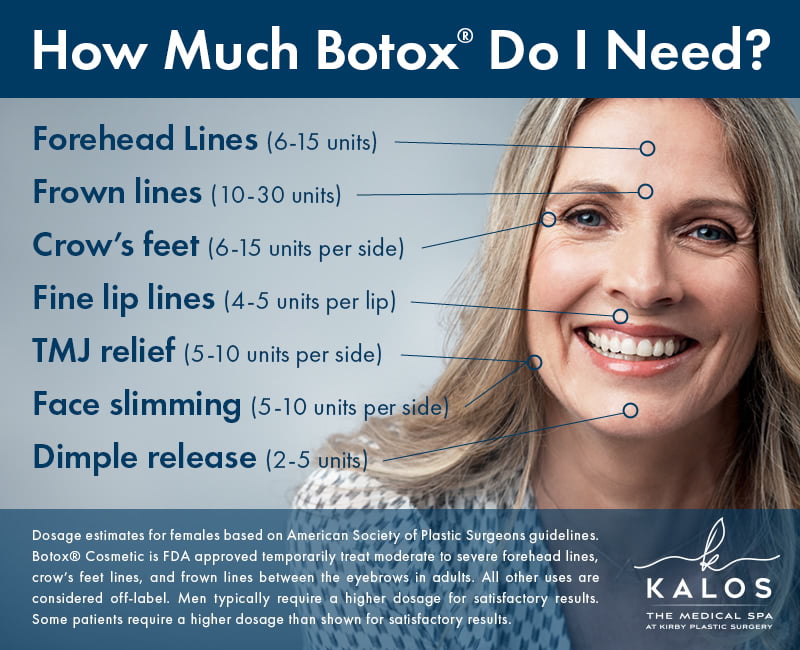 Botox Lip Flip
For our Fort Worth patients who come to us seeking lip enhancement, but would prefer not to use dermal fillers, the Botox lip flip is a preferable alternative. A Botox lip flip is performed by carefully injecting Botox around the upper lip to relax the orbicularis oris muscle. The upper lip then rolls slightly upwards, causing more of it to be visible, thus resulting in a more defined and voluminous look.
You should consider a Botox lip flip if:
You would like a subtle, more prominent "pout"
You find your upper lip looks invisible when you smile
You desire fuller-looking lips but do not want additional volume
You are looking for a temporary treatment (3-4 months)
Learn more about the Botox lip flip:
Schedule your Fort Worth Botox treatment at Kalos Medical Spa
Our highly trained aesthetics team has extensive experience with Botox and works closely with Kalos Medical Spa owner, board certified plastic surgeon, Dr. Emily Kirby. In addition to Botox, we also offer a full range of premium brand-name injectables, including Dysport, DAXXIFY, Kybella, Restylane, Sculptra, Juvéderm, and the Revance RHA filler collection. If you're interested in learning more about how an injectable treatment can refresh your look, we invite you to call or text us for a personal consultation at 817-292-4200, or fill out the contact form on this page.
Area Served: