Fort Worth Kybella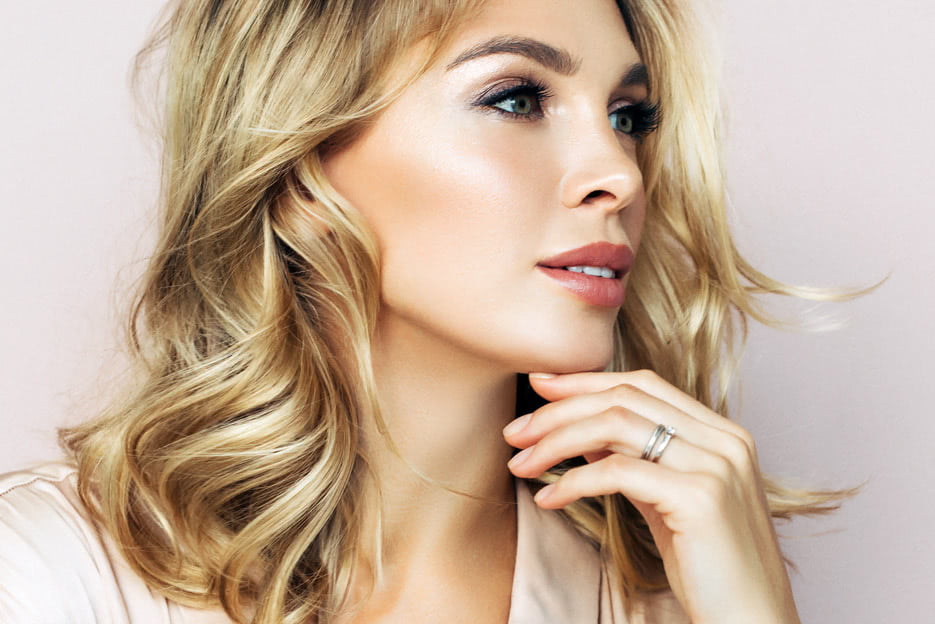 Improve your profile without surgery or downtime

Not crazy about the double chin you inherited from grandma? Welcome to the club, as they say. However, just because a double chin is a common trait doesn't mean you have to keep it!
Kybella® is a non-surgical injectable treatment that is FDA approved to reduce a double chin. Kybella dissolves fat cells in the areas where it is injected, reducing fullness for an improved facial profile. Following treatment, patients experience noticeably less fat under the chin as well as a better-defined jawline that makes the whole face look slimmer and better proportioned.
---
---
How does Kybella work?
Since a double chin tends to be an inherited trait, diet and exercise are unlikely to significantly affect fat beneath the chin.
The active ingredient in Kybella, deoxycholic acid, is a substance that your body already uses to break down fat in the digestive system. Kybella contains optimal amounts of deoxycholic acid that begin to dissolve the fat cells when injected directly into the fat beneath the chin. This process begins immediately after treatment and continues as your body naturally eliminates the unwanted fat cells.
Depending on your needs, we may perform several injections during each treatment. The needle is very thin and most patients find any discomfort to be easily tolerated.
Why choose Kalos for your Kybella treatments?
'I love this place because they make you feel so comfortable and are top notch at what they do!!!"
—K.K., Actual Patient
The face and neck are sensitive areas with intricate anatomy. It is essential to choose an experienced provider for any cosmetic injectable treatments, such as Kybella. Here at our Fort Worth med spa, Kybella injections are performed by Board-Certified Plastic Surgeon Dr. Emily J. Kirby or one of our highly experienced certified physician assistants. Each of our providers has years of experience performing cosmetic injections for a variety of patients and are trained in the specific techniques for injecting Kybella. Their aesthetic training and knowledgeable approach help to ensure that your treatment is safe and your results optimal.
We are a Top 500 Provider
Thanks to our patients, we are in the top 1% of Allergan providers nationwide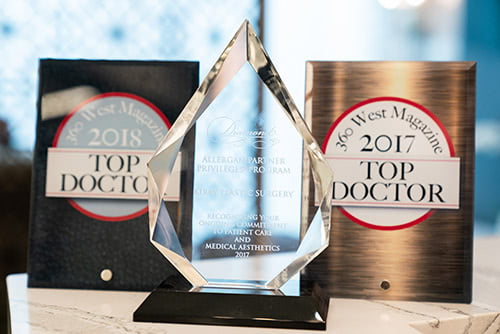 Dr. Kirby and her team have been named a Top 500 practice by Allergan, the makers of Kybella, Botox®, and Juvéderm® fillers. Dr. Kirby is one of only three plastic surgery practices with this distinction in the Dallas-Fort Worth metroplex.
The Top 500 distinction is awarded annually to the busiest practices serviced by Allergan in the United States. Earning this award distinguishes our practice and symbolizes our many years of experience and depth of knowledge in helping our patients enjoy beautiful outcomes using these products and treatments. It is a testament to our commitment to exceptional patient care through quality service and attention to detail.
We are honored to be recognized among the top 1% of over 35,000 providers nationwide and are grateful for the confidence our patients place in us.
Benefits of Kybella for double chin reduction
There are a few options doctors have to address a double chin. Here are a few reasons we recommend Kybella to many of our patients wishing to improve their profile:
Treatments take only about 15 minutes with little or no downtime.
Kybella permanently eliminates treated fat cells, meaning fat will not accumulate in that area in the future.
Kybella is effective even for very small amounts of chin fat as well as more substantial fat deposits, meaning that you do not have to have a certain amount of fat to be a good candidate for treatment.
Results are noticeable after the first treatment, with final results noticeable a few months after treatment.
Kybella can eliminate the need for chin liposuction surgery.
Am I a good candidate for Kybella?
If you are in good general health and are bothered by excess fat beneath the chin, chances are you can benefit from Kybella. Since Kybella is primarily a fat reduction treatment and will not address significant skin laxity, the best candidates have reasonably good skin elasticity. If are concerned about loose or sagging skin on your neck or jowls, Ultherapy can be an excellent option to tighten these areas without surgery.
What possible side effects should I know about?
The most common side effects with Kybella are temporary, mild to moderate swelling, redness and sensitivity at the injection site. Some patients experience a hard or lumpy texture for a short time after treatment; these effects typically dissipate over a week or two following treatment.
How can I learn more about Kybella?
If you are ready to make your double chin a thing of the past, we are here to help. Kalos Medical Spa at Kirby Plastic Surgery in Fort Worth uses Kybella to address your double chin without the need for liposuction, surgery, or downtime.  In addition to Kybella, we also offer a full range of premium brand-name injectables, including Botox, Dysport, DAXXIFY, Restylane, Sculptra, Juvéderm, and the Revance RHA filler collection. All treatments are administered by our highly-trained team of licensed aestheticians and physician assistants under the direction of female Board-Certified Plastic Surgeon Dr. Emily Kirby. Call or text (817) 292-4200 or contact us online to schedule your personal consultation today.
Area Served: