Current Specials
Check out the latest ways to save on your favorite treatments & skincare products, plus special events at Kalos, the Medical Spa at Kirby Plastic Surgery. The following offers are valid through 05/31/19 unless otherwise noted.
---
10% Off All Dermal Fillers*
One of the quickest ways to refresh your appearance is fillers—and there's no better time to treat mom or yourself to expertly performed injections at Kalos Medical Spa. All fillers are 10% off this month.
Smooth smile lines, soften nasolabial folds, enhance lips or cheeks, or rejuvenate aging hands, it's up to you! Our certified injectors deliver a natural look every time.
Saving on Botox is as easy as 1-2-3-4**
Botox regulars rejoice—we're rolling out a new rewards program called Own Your Look, where you save more with each Botox Cosmetic treatment at Kalos Medical Spa:
1st treatment: receive $50 OFF
2nd treatment: receive another $50 OFF
3rd treatment: save $100 on Juvéderm (2 syringes)
4th treatment: your Botox treatment is FREE (up to 50 units)
Good for Brilliant Distinctions members only. Not a member yet? Join now for free and select Dr. Kirby as your provider. Then, call to book your Botox appointment » 817-292-4200
Free Botox OR HydraFacial for New CoolSculpting Patients***
CoolSculpting can help you shrink stubborn bulges without surgery or downtime—and now is the time to go for it. Every new CoolSculpting patient who books in May can choose one of the following treatments on the house:
Up to 20 units of Botox free OR
One complimentary Signature HydraFacial MD
Call us at 817-292-4200 to claim your savings today!
*Offer valid only for patients deemed an appropriate candidate by Dr. Kirby and our certified providers. Consultation required. Injections performed by certified providers. Expires 5/31/19.
**Own Your Look rebate is valid for Brilliant Distinctions (BD) members only. Patient must be a BD member at time of treatment to redeem. Only 1 rebate per member. Rebate cannot be combined with other rebates within Juvederm collection, but can be combined with other BD coupons and rebates. $50 injection fee applies to free Botox treatment.
***CoolSculpting offer valid for new Kalos Medical Spa patients with purchase of packages of 4 treatments or more. Must be deemed an appropriate candidate by our certified clinicians. Consultation required. Expires 5/31/19.
Call 817-292-4200 for details.
---
Earn a FREE Allergan treatment of your choice** when you choose Natrelle breast implants
Considering breast augmentation this spring? Book with Dr. Kirby and you'll get your choice of the following free* when you choose Natrelle silicone gel implants:
Botox treatment for you and a friend ($520 value) or
One area of CoolSculpting ($750 value) or
SkinMedica Sampler Kit ($125 value)
**Offer valid for 90 days from date of breast surgery using Natrelle silicone gel implants. FDA approved treatments of Botox are limited to 50 units. The treatment plan, including how many units of Botox to administer, depends on your goals, your anatomy and injector's discretion. Offer is valid only for patients deemed an appropriate candidate by our qualified medical personnel. Injections are performed by a certified injector.
---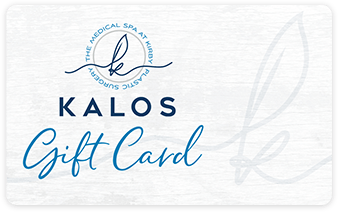 Need the perfect gift for any occasion? We've got it: Kalos Gift Cards!
You can now buy and send gift cards to Kalos, the Medical Spa at Kirby Plastic Surgery, instantly through our convenient online option. It's easy—just click here to start, choose an amount, enter your info, and your gift card will be emailed instantly to the recipient. Perfect for birthdays, anniversaries, new jobs, baby or bridal shower gifts, or just to show you care! You can now buy and send gift cards to Kalos, the Medical Spa at Kirby Plastic Surgery, instantly through our convenient online option. It's easy—just click here to start, choose an amount, enter your info, and your gift card will be emailed instantly to the recipient. Perfect for birthdays, anniversaries, new jobs, baby or bridal shower gifts, or just to show you care! Send a Gift Card Now »