Current Specials
Check out the latest ways to save on your favorite treatments & skincare products, plus special events at Kalos, the Medical Spa at Kirby Plastic Surgery.
---
Summer Skincare Bundles
Our Team at Kalos Medical Spa has specially curated some of our top Summer Essentials exclusively for you! Designed to keep you looking and feeling your best all season, these bundles were handpicked by our skincare experts to deliver stellar results.
Summer Essentials Kit for Oily/Combination Skin: $99
With this kit, expect to accelerate cell turnover, minimize pore size, and improve hyperpigmentation with the amino acid and protein-rich ingredients in these top of the line products.
Enjoy now for $99 (reg $135)
Summer Essentials Kit for Dry/Sensitive Skin: $110
Created exclusively for our patients, this kit is designed to nourish, hydrate, and protect dry, dull skin with our advanced, triple-action antioxidant and nutrient-rich products.
Enjoy now for $110! (reg $140)
Summer Body Essentials Kit: $120
This luxurious body bundle includes three of our favorite BABOR Spa products and is perfect for all skin types. You will cleanse, exfoliate, and hydrate dry, dull skin with our smooth and creamy BABOR Summer Essentials Kit. These products pair perfectly with lazy pool days, promoting firmer, tighter skin, and a redefined silhouette.
Enjoy now for $120 (reg $150)
Call us at 817-292-4200 to place your order »
---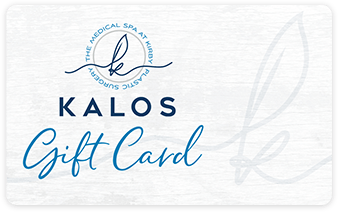 Buy Now, Enjoy Later
We're all chomping at the bit for some return to normal. We certainly miss seeing you and we miss providing the stellar service you've come to expect from our team.
The good news is that purchasing a Kalos Medical Spa Gift Card is just a few clicks away. Whether you want to treat a loved one, start planning for yourself, or request something a little special for Mother's Day, you hit the mark with a gift card.
Gift Cards can be used toward products and services offered at Kalos Medical Spa and can be combined with Brilliant Distinction offers.