Are diet and acne related?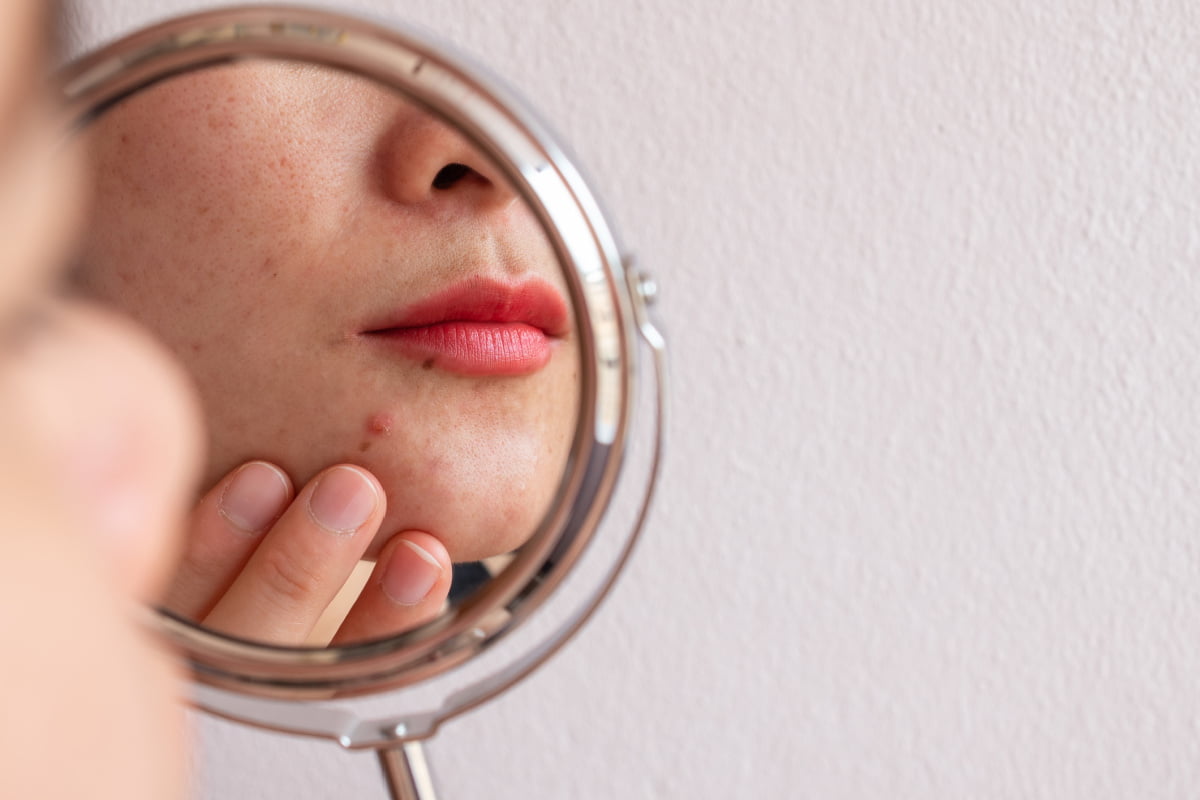 If you are experiencing acne despite having tried every topical treatment on the market, it might be time to look inward: a 2020 review of several studies, published in the American Journal of Clinical Dermatology, confirmed there may be a connection between certain foods and acne. The review found evidence suggesting that dietary factors including glycemic index, dairy content, dietary fats, and probiotics may influence the development of acne.
What foods are good for acne-prone skin?
Several studies showed that acne-prone patients who followed low-glycemic diets had fewer breakouts than those whose diets had a high glycemic load. A low-glycemic diet typically includes a high proportion of vegetables, beans, lentils, fruits, nuts, and seeds (and avoids processed foods, sugary beverages, added sugars, refined grains, and most potatoes). Furthermore, additional controlled trials that compared a low-glycemic diet with a carbohydrate-dense diet found that the low-glycemic diet reduced the number of acne breakouts.
Results from some studies also suggest that increased consumption of omega-3 fatty acids and gamma-linolenic acid may benefit people with acne-prone skin. One randomized controlled trial of 45 patients found that those who supplemented their diet with these fatty acids had fewer breakouts compared to those who did not.
Finally, in a small trial of patients suffering from adult acne, certain probiotics demonstrated potential for reducing breakouts, but further study is required to support these early findings.
What foods should acne patients avoid?
Numerous studies have demonstrated that regular consumption of sugary treats and beverages is associated with acne. This is likely because when blood sugar rises, insulin rises, which in turn causes androgen hormones to be more active and increases insulin-like growth factor 1 (IGF-1); these imbalances can have negative effects on the skin, including boosting oil production.
Cow's milk is another food to consider avoiding: the authors referenced eight studies over the past two decades that have shown "evidence supportive of association of milk and whey proteins in increasing acne lesions." However, this may be dependent on both the person and the type of milk product; the authors noted, "acne flares in individuals consuming milk may be related to whey proteins and casein via insulinotropic and IGF-1 pathways, which may explain why other dairy products such as butter or cheese have not demonstrated the same associations with acne."
Read the full 2020 review of diet and acne studies here.
Thoughts on acne and diet from Dr. Kirby
Dietary needs vary greatly, so what works for one person, or even for hundreds of people who participated in a study, may not provide the same results for you. Rather than relying on published research alone to make personal dietary decisions, I encourage you to evaluate your needs by keeping a journal of your dietary habits and breakout patterns, then reaching out to your doctor, dermatologist, and/or a nutritionist for guidance.
However, these studies may offer helpful ideas for some individuals. In an effort to reduce your acne breakouts, it may be worth reserving consumption of sweets for special occasions or taking a short break from certain milk products.
In my practice, I observe that people who follow healthy habits have better skin quality overall, and so I encourage all of my patients to follow a balanced diet that includes a variety of nutrient-dense foods, avoid eating too many processed foods, and consume alcohol in moderation. Exercise is also important to overall health and glowing skin. And remember to wear SPF: acne patients in particular need to be sure to protect their skin from the sun, since leaving open acne lesions unprotected can lead to more visible scarring. SkinCeuticals Physical Matte UV Defense SPF 50 is a favorite of our oily-skinned, acne-prone patients.
About Kalos Medical Spa in Fort Worth
Are you struggling with regular acne breakouts? Board-Certified Plastic Surgeon Dr. Emily J. Kirby has helped numerous Fort Worth patients battling adult acne and acne scarring. Dr. Kirby and her experienced aesthetics team at Kalos Medical Spa will create a customized acne treatment plan that includes a combination of in-office skin procedures and medical-grade products to use at home. Call or text (817) 292-4200 or contact us online to schedule your skin consultation today.