Can CBD Improve Acne? A Plastic Surgeon Weighs In.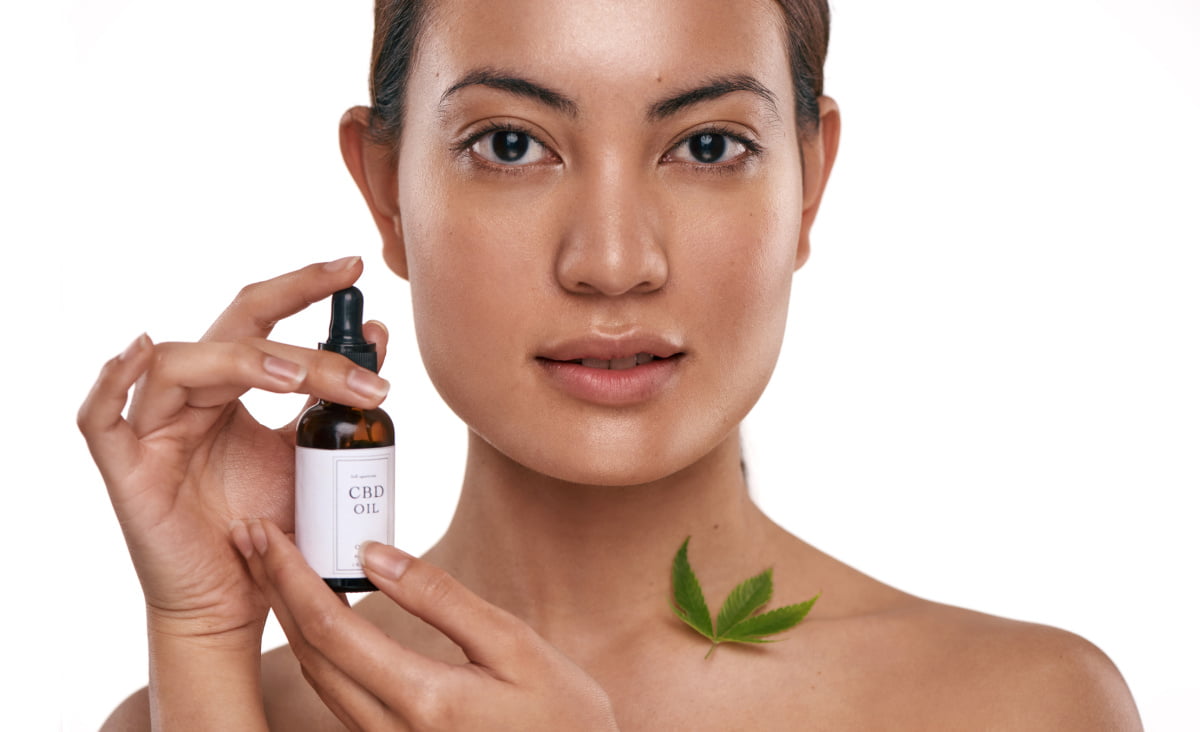 If you are tuned into the beauty and health world, chances are you have heard of CBD. This compound has recently gained popularity as a wonder drug, touted for its ability to improve everything from epilepsy and insomnia to mental health disorders and even skin conditions, like acne. While CBD oil does appear to offer promising benefits to some acne sufferers, I feel it is important as a physician to take a research-based approach to verifying this claim.
What is CBD?
Cannabidiol (CBD) is the non-psychoactive portion of the cannabis sativa plant, which produces both marijuana and hemp. Unlike the psychoactive compound tetrahydrocannabinol (THC), CBD does not produce an altered mental state in its users. CBD is available in many forms, including tinctures, salves, edibles, smokeable flower, and, now, skincare products.
Hemp seed oil vs. hemp oil
When looking for CBD skincare products, you will likely see some that contain hemp oil and others that list hemp seed oil. While both of these oils may provide benefits, there are some important differences to keep in mind:
Hemp seed oil is harvested by cold-pressing hemp seeds. It is rich in vitamins, minerals and essential fatty acids, making it a popular skincare product and dietary supplement. However, hemp seed oil does not contain CBD or THC.
Hemp oil, also referred to as CBD oil, is extracted from the whole cannabis sativa plant (not just its seeds), and therefore contains more plant compounds, including CBD.
Can CBD treat acne?
One of CBD's most noted benefits is its ability to reduce inflammation, as supported by a 2017 review published in the Pharmacology & Therapeutics journal. Typically it is sold in a topical salve to relieve sore muscles and arthritic joints, but the same anti-inflammatory effects may be applied to improving acne.
A 2014 study published in the Journal of Clinical Investigation found that CBD was effective at reducing sebum production in humans. Sebum is an oily, waxy substance produced by skin's sebaceous glands that can lead to acne when it is overproduced. The study's researchers also found CBD to have "remarkable" antibacterial activity, which is key to fighting acne.
These benefits, combined with CBD's anti-inflammatory properties, may make it a powerful ingredient in alleviating acne. However, it is important to remember that significantly more research still needs to be conducted to determine precisely what effect CBD has on acne and what side effects may occur.
It is difficult to know which of CBD's compounds will benefit your skin and which could worsen the very conditions you wish to improve.
Broad spectrum vs. full spectrum CBD
To add another piece to the CBD puzzle, CBD products are either labelled "broad spectrum" or "full spectrum." Full-spectrum CBD oil contains a trace amount of THC (less than 0.3%), while broad spectrum CBD has no THC at all. These products each contain different plant compounds and extracts, which all affect the skin differently.
Since research into CBD is still in its early stages, it is difficult to know which plant compounds will benefit your skin and which could worsen the very conditions you wish to improve. For example, while one cannabinoid might be good for inflammation, another might increase oil production. Due to this ambiguity, I advise sticking to medical-grade, physician-prescribed skincare products that have a proven track record, which I discuss below.
Is CBD legal in Texas?
In summer of 2019, Governor Greg Abbot signed a bill making hemp products legal in Texas. Since hemp contains CBD, this law legalized CBD products.
What is the legal limit for THC in CBD products?
By definition, hemp contains 0.3% or less of THC, which is the legal THC limit for CBD products in Texas. However, just because CBD is legal does not mean it is safe.
Is CBD safe?
Many people consider CBD to be generally safe, but there are a few reasons to be wary of the product:
CBD is unregulated. None of CBD's medical or health claims are recognized by the Food and Drug Administration. (Only one CBD product has been approved by the FDA—a prescription drug used to treat seizures.) The CBD industry has been referred to as the "Wild West" of herbal supplementation because it is so new and unregulated, with laws trying to keep pace with product marketing.
CBD may contain THC. Although CBD is often advertised as having no THC, some brands have tested positive for the psychoactive compound in studies.
CBD can interact with other medications. From antidepressants to herbal supplements, CBD may affect other drugs you are currently taking.
If you choose to purchase CBD, make sure it has been tested by a reputable third party and publishes its THC content on its label. Also, avoid products that say they "cure" or "treat" any health concerns, as CBD products are not legally allowed to make these claims.
The CBD industry has been referred to as the 'Wild West' of herbal supplementation because it is so new and unregulated.
Medical-grade skincare products are proven to help acne
Because research on CBD is so limited, I recommend choosing skincare products with ingredients known to be safe and effective at treating acne, such as those found in medical-grade skincare products. Medical-grade products are thoroughly tested and contain active ingredients that are far more potent than those found in over-the-counter alternatives, yet are still gentle enough to nourish irritated skin.
Medical-grade acne treatment in Fort Worth, Texas
At Kalos Medical Spa in Fort Worth, we offer premium medical-grade skincare products, including brands like SkinCeuticals®, ZO® Skin Health, NeoCutis®, and iS Clinical®. These products contain medical-grade, physician-recommended ingredients, like hyaluronic acid, vitamin C, and peptides, proven to nourish and protect sensitive skin. Whether you would like to soothe irritated skin, reduce inflammation, or hydrate dull skin, our professional staff can help you find just the right skincare products to meet your needs. Contact my office online or call (817) 292-4200 to schedule your personal skincare consultation.