Our Licensed Aesthetician's Winter Skincare Essentials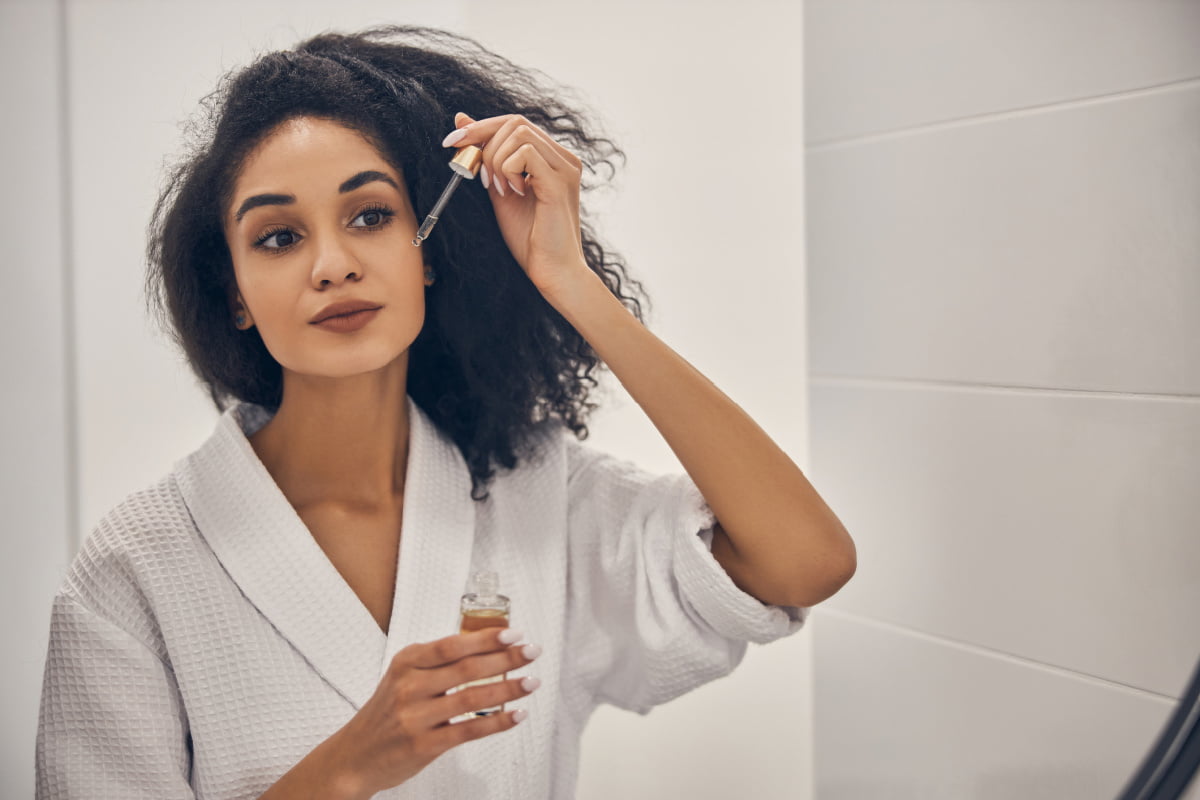 Ah, winter—cozy clothes, holiday parties, and nights spent curled up by a fire. While there is plenty we love about this festive season, the cold, dry winter air can wreak havoc on our skin. This month, we sat down with Holly Rahn, one of our Licensed Aestheticians, to discuss her favorite skincare products and cosmetic treatments for the winter months.
What is your winter "holy grail" skincare product?
SkinCeuticals® H.A. Intensifier is my go-to recommendation for patients with dry, flaky skin. This hyaluronic acid serum helps boost skin hydration for firmer, plumper, and smoother skin. It also noticeably reduces the look of crow's feet, nasolabial folds, and marionette lines. While it is especially effective for those with dehydrated skin, the H.A. Intensifier can benefit all skin types, including normal, oily, sensitive, and combination skin. This product can also be used at home to enhance the results of dermal fillers.
SkinCeuticals H.A. Intensifier is my go-to recommendation for patients who suffer from winter skin. This hydrating serum helps skin look and feel firmer, plumper, and smoother.
What skincare products would you recommend to patients struggling with dry winter skin?
SkinCeuticals Triple Lipid Restore contains cholesterol, fatty acids, and ceramides to hydrate dry winter skin and correct visible signs of facial aging. Triple Lipid Restore helps replenish skin's essential lipids to combat dryness, improve skin's texture and fullness, and minimize the appearance of pores. I love that this corrective cream does not feel heavy or look greasy, yet it is extremely nourishing and soothing. I often recommend Triple Lipid Restore to help alleviate the natural dryness that can occur after surgery.
What ingredients do you look for in a quality skincare product?
Some of my favorite skincare ingredients include:
Hyaluronic acid (HA). As a substance found naturally in our bodies, hyaluronic acid is responsible for maintaining cellular moisture, making it the ultimate skin hydrator. Many skincare products and dermal fillers are made of hyaluronic acid due to its ability to not only hydrate skin deep down but to increase collagen and elastin production.
Peptides. Peptides are amino acids, a.k.a. the "building blocks" of proteins that help boost skin's collagen levels. Peptides occur naturally in our skin and can help improve our skin barrier, improve wrinkles and fine lines, reduce inflammation, and help clear up breakouts. Peptides may also stimulate the production of melanin, a skin pigment that can help protect against sun damage.
Licorice root. Licorice root extract works similarly to hydroquinone, a potent skincare ingredient used to brighten skin complexion and reduce the appearance of hyperpigmentation. However, because hydroquinone can sometimes exacerbate hyperpigmentation in patients with darker skin, licorice root provides a safer alternative. This ingredient can be used to fade dark spots, even skin tone, and soothe irritated skin.
Turmeric. Turmeric contains antioxidants and anti-inflammatory components, making it an ideal ingredient for brightening skin, healing blisters and sores, and improving acne and acne scars. Studies have indicated that turmeric may also help reverse eczema—dry, itchy, red patches of skin that are worse in the winter.
Do you recommend patients switch skincare products with the seasons?
If your skin is sensitive to environmental changes, it can be beneficial to switch up your skincare routine as the seasons change. If your skin is more oily and prone to breakouts during the spring and summer, you may consider using a lightweight moisturizer, since skin already tends to be more oily during these months (especially in Fort Worth, where summers are humid). In the colder months, it is better to switch to a richer, heavier product like a moisturizing cream to help lock in moisture and amplify hydration. However, if your skin is fairly consistent throughout the year, you may not need to make major changes to your routine.
You may consider using a lightweight moisturizer during the spring and summer, and switch to a heavier moisturizing cream in the winter to lock in hydration.
Are there any non-surgical skincare treatments you recommend in the winter?
Our staff likes to recommend the following non-surgical skincare treatments for the winter months:
Laser treatments. Winter is a great time to have laser treatments because we spend more time indoors, making it easier to avoid the sun during recovery. IPL photofacial treatments are great for reversing sun damage and improving the appearance of broken capillaries and rosacea, while ResurFX™ is ideal for targeting textural concerns such as large pores, fine lines, and wrinkles. The ResurFX laser also helps to remove dull, damaged skin cells and reveal healthy new skin. When undergoing laser treatments, it is important that you avoid sun exposure and tanning beds 2 weeks before and 2 weeks after treatment in order to avoid adverse reactions.
Dermal fillers. Dermal filler treatments can help rejuvenate lackluster skin and restore age-induced volume loss. While they will not hydrate skin the same way skincare products do, they can help skin appear plumper and more refreshed by lifting sagging tissues. At Kalos Medical Spa, we offer a variety of fillers to address your unique concerns and skin type, including Juvéderm®, Restylane®, Revance's® RHA collection, and Sculptra Aesthetic®.
HydraFacial MD®. A HydraFacial is a great way to remove excess oil, dirt, dead skin cells, and other impurities from your skin and replace them with nourishing serums specifically formulated for your skin type and goals. A HydraFacial MD will instantly leave your winter skin looking and feeling firmer, smoother, and more vibrant.
Schedule your Fort Worth skincare consultation with us today
Want healthy, youthful-looking skin this winter and year-round? Kalos Medical Spa at Kirby Plastic Surgery offers a variety of medical-grade skincare products and non-surgical cosmetic treatments to help keep you refreshed all year round. All treatments are administered by our team of licensed aestheticians and injectable specialists under the direction of Board Certified Plastic Surgeon Dr. Emily Kirby. Call or text (817) 292-4200 or contact us online to schedule a consultation today.